Children's Book Publishing
Move Books is moving to Charlesbridge! 0
Move Books is moving to Charlesbridge!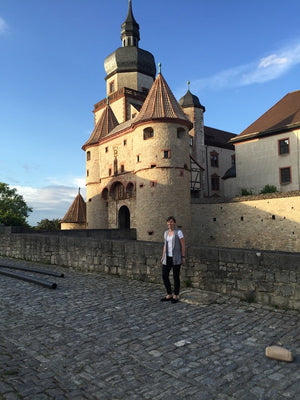 Top 10 Surprises from a Yankee Editor in Germany 1
By Julie Bliven
In late June I traveled to Germany with seven other children's book editors hailing from the US, UK, New Zealand, and Canada. Beginning in Hamburg and ending in Frankfurt, we met with about a dozen publishers to talk shop and learn about the German book market.
The trip was sponsored by the German Book Office of New York, which is co-financed by the German Foreign Office and is one of the Frankfurt Book Fair's arms into foreign markets. The GBO encourages interest in German books by promoting rights and license sales and book exports through special book exhibitions, literary programs, and exchange programs (like this one) for publishing professionals.
 The German Book Office group (from l to r): Hilary van Dusen, Executive Editor, Candlewick Press (US); Juergen Boos, Frankfurt Book Fair Director; Kristin Zelazko, Editor, Albert Whitman & Company (US); Traci Todd, Executive Editor, Abrams Books (US); Anthony Hinton, Editor, David Fickling Books (UK); Paula Ayer, Associate Manager, Annick Press (Canada); Greg Hunter, Senior Editor, Lerner Publishing Group (US); Rachel Lawson, Associate Publisher, Gecko Press (New Zealand); Julie Bliven, Editor, Charlesbridge Publishing (US); and Riky Stock, German Book Office New York Director.

For me, the experience served as a rare opportunity to compare and contrast the German and American publishing industries. Here's a list of a few of the things I found most fascinating and, in many cases, most surprising.
German publishers import nearly ten times as many titles as US publishers do. I'm not sure the exact reasons for this. Part of it could be the fact that creative writing in Germany has only developed more recently. The country doesn't have programs like SCBWI nor a plethora of homegrown, contemporary authors. On the flip side, there may be a discrepancy between the two countries because the US could be less apt to publish MG and YA stories from a non-American point of view (one discussion point that came up). US picture books, however, definitely reflect more diversity in terms of race, ethnicity, gender, sexual orientation, socioeconomic status, physical abilities, and religious beliefs than we were seeing from German picture books, and publishers admitted that the German book industry has not made a deliberate shift toward embracing a stronger sense of inclusivity. Throughout the trip, conversations about We Need Diverse Books and the expanding mindset of US publishers and all industry participants had us all believing and hoping that America's publishing approach is indeed changing. Perhaps this could eventually translate into an increase in imports to the US.  

 
Discussing books and drinking tea at Aladin Verlag in Hamburg, Germany.
Given #1, many German publishers are eager to find and nurture more homegrown talent so they can decrease imports and increase promotional signings and events led by local authors. A couple publishers have even had success recruiting popular German adult fiction writers to author children's fiction for them.
The German school and library market is much smaller than the one in the US. Due to lack of funding, these markets are unable to buy at the same rate that we're used to, and so German publishers don't strategize toward these markets. Literary awards as well as blog posts from well-known teachers and librarians are also less influential.
The German market has a fixed book price, which is protected by law. Discounts can only be approved by publishers.
 All ready for a meeting at Carlsen Verlag in Hamburg, Germany.
Booksellers in Germany are required to train extensively—for two years! German publishers see booksellers as the ultimate gatekeepers.
Legally, German bookstores have six months to return books, but a few publishers admitted that stores sometimes fudge on the rule and look to return long after.
German authors are compensated by their publisher for bookstore and other promotional events and signings.
Very few of the publishing houses we met with have their own in-house design department. Most German publishers use freelance designers. A few houses see this as bittersweet, for their jackets all have strong, unique designs, but they admitted that working with various designers means readers might not recognize a branded "look."
Oetinger Publishing Group's office in Hamburg, Germany.
Middle-grade series are wildly popular, seemingly more so than in the US. Most houses we met with had several middle-grade series with five-plus volumes and plans for many more.
Nonfiction is not as prevalent or as diverse in Germany as in the US. Few publishers we met with acquired and developed much nonfiction. In 2014, children's nonfiction made up 9.5% of total German children's book sales. Here in the US, children's nonfiction grew by more than that in 2015 alone. (I was unable to find an accurate total percentage of nonfiction children's titles in the US.) Sources from Publishers Weekly to Publishing Trends continue to report growing nonfiction trends over the past several years.
I have to admit that there are practices in Germany I wish we could adopt here. (I'm looking at you, fixed book prices.) And, of course, there are aspects of publishing in the US that I'm grateful for and wouldn't want to change. (Our school and library markets to name one.)
Despite our differences, though, we all share the same goal: to publish a wide range of well-crafted, thoughtful books for children that align with the unique identities of our individual publishing houses. Both countries are deeply entrenched in the customs and practices of a decades-old business. However, learning from each other seems to be one way we can both continue to uphold what works well while seeking ways to improve traditions and systems that need some shaking up. Prost to that!
 And prost to a little fortress frolicking in our free time.
Here I am at Festung Marienburg in Würzburg, Germany.
Julie Bliven is editor and contracts manager at Charlesbridge, where she has edited more than forty titles, including fiction and nonfiction board books, picture books, and middle-grade novels. She has worked with authors such as Anne Sibley O'Brien, Steve Jenkins, Peter and Paul Reynolds, and Natalie Dias Lorenzi. Julie holds an M.A. in Children's Literature from Simmons College, mentors writers in the college's M.F.A. program, and has taught writing courses at the Jewish Community Centers of Massachusetts. She is also a member of the Children's Book Council Diversity Initiative and wrote a post for their blog about her trip, "Bookish Reminders Here and Abroad". @Julie_Bliven
Save
Save
Save
Save
Save
Save
Save
Save
Save
Save
Save
Save
Save
Save